Action Cameras Review of the X170 from Drift Innovation
The Good: DVD Quality Footage + 170º lens + Wireless RF Remote + 1.5 Screen = WOW!
The Bad: Its a little bulky but this is understandable as it is housing the screen as well as all the regular helmet camera technologies.
The Action Cameras Bottom Line: The X170 is the first camera to tick every single box that we want to tick when deciding on a helmet cam to buy. Read below to see how much is packed into this small cam. Weve tested it to the limits, showed our friends the amazing quality video, and have loved every second of it. We highly recommend this Action Camera!
FULL REVIEW BELOW
The Drift Innovation X170 Action Camera one of the best all-round helmet cameras for filming any extreme sport that we have come across. Designed to take high quality point-of-view photos and videos of all action sports such as skiing, mountain biking, motorbiking and any other extreme sport that you can think of. The Drift Innovation catch phrase sums it all up; Capture and Relive all of your Action Sports!. Available from Avtion Cameras for just £199.99 this is fantastic value for money!
The X170 has ticked every single box that we want in an extreme sports camera! Lets have a quick look at some of the headline features:
* The X170 delivers DVD quality video and 5Mp photographs,
* These functions can be controlled by a wireless RF remote control,
* A 1.5 screen helps you to line up the perfect shot and to show off your video right away,
* Memory expansion up to 8Gb on SD card,
* With a wide angle lens of 170º, you will get all the action in your shot,
* All the mounts that you need are provided, plus it has a metal 8mm mount,
* The price tag for all of this is incredible!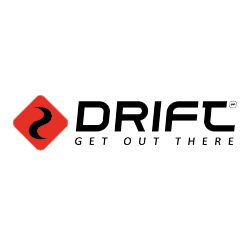 One of the first features that youll notice when taking your new X170 out of the box is the 1.5 screen. We found that having a screen on the camera itself is a seriously useful function to have for two main reasons; firstly you can line up the best angle when mounting the camera so that you dont get home after a long day out expecting to see brilliant videos only to find that you have been filming blue sky. Secondly, and more importantly is watching your videos on the screen straight after youve come off the slope, track, or water with your mates!
With previous narrower angle cameras it was difficult to percieve the speed because the lens only saw the track in front. Now when you can mount a full 170º lens, you can see from the wide angle, not only what is in front of you because this lens gives a wider specter and it is easier to catch the scenes all around you. And the best thing is that 8mm thread.